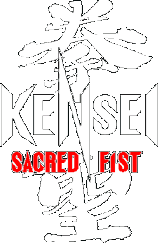 Welcome to Kensei: Sacred Fist Wiki
Edit
Welcome to Kensei: Sacred Fist wiki. We're a collaborative community website about characters and stages topic that anyone, including you, can edit. Click the edit button at the top of any page to get started!
The game features 9 initial playable fighters from around the world with their own varied fighting styles and 14 hidden characters that can be unlocked through the completion of the game. Most of the unlockables share a moveset with one of the main characters, with slight modifications regarding the attacking range and combo length.
The following is a list of the 9 main characters, with their unlockable counterparts:
Other unlockable characters are:
Zhou Leimeng ("Original Style", Hong Kong): The first boss of the game who specializes in his own original style of fighting. A Hong Kong Chinese man dressed in a business suit who serves as Kaiya's right-hand man and the second-in-command of The Tsubaki Corporation. He is far shorter than the other characters in the game, therefore moves that target at his head's height usually fail against him.
Kaiya Tsubaki (Kenpo, Japan): The second and final boss of the game. A middle-aged Japanese man who specializes in Kenpo. The father of Saya and son of Genya, Kaiya is the ruthless leader of The Tsubaki Corporation and seeks to expand his criminal corporation's power over the world.
Jelly Thomas/Billy Thomas ("Original Style", USA): Two American criminal twin brothers who wear animal masks over their heads: Jelly wears a parrot mask while Billy wears a penguin mask. The two of them share the same character slot, much like Kuma/Panda in the Tekken series. Their own fighting style is a combination of other moves present in the game.
Kazane Tsukikage (Ninjutsu, Japan): A young Japanese woman who specializes in ninjutsu. Kazane is the older sister of Hyoma and that she also happens to be a kunoichi dressed in miko-like attire. She was sent on a reconnaissance mission to spy on The Tsubaki Corporation, but was captured from within her time, thus both her brother Hyoma and her master Sessue had set forth on a rescue mission to save her.
Reception
Edit
Latest activity
Edit